Recipe 1: Gingerbread-Apple Muffins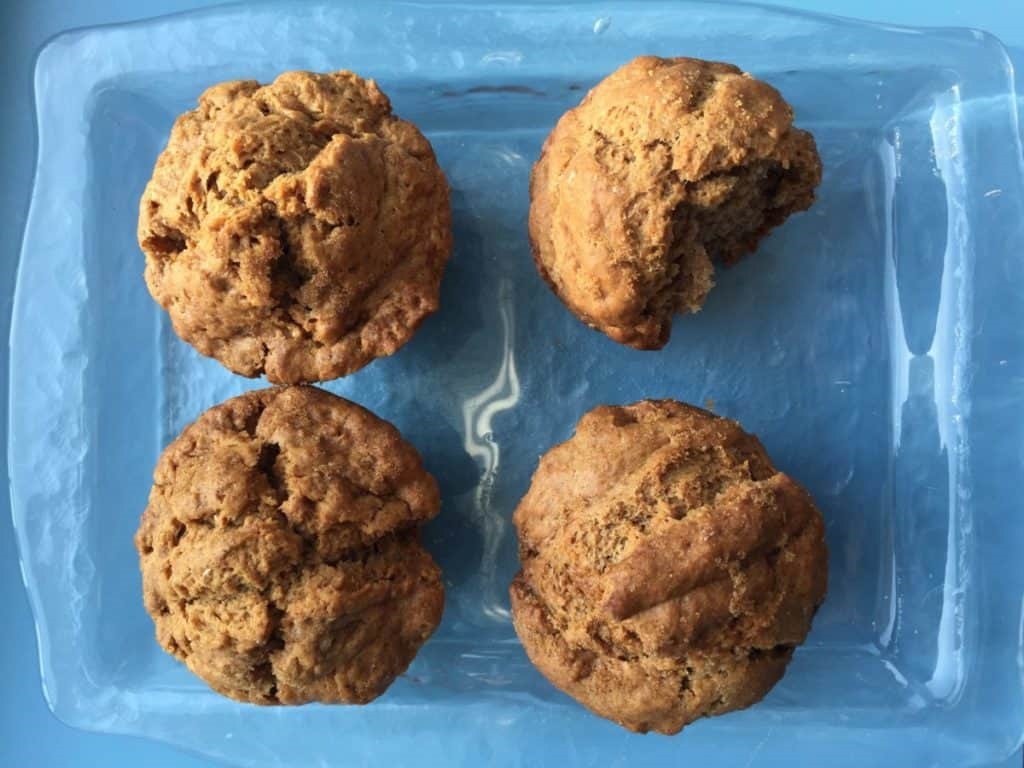 INGREDIENTS
1/2 cup butter, softened (can substitute melted coconut oil)
1 egg
1 apple, cut in small pieces
½ cup real maple syrup
½ cup plain Greek yogurt
½ cup milk
1/4 cup dark brown sugar
1 generous tablespoon fresh grated ginger or ginger paste (you can also substitute 1 teaspoon ground ginger)
1½ cups whole grain whole wheat flour
1 cup all-purpose flour
1½ teaspoons baking soda
½ teaspoon salt
3 teaspoons cinnamon
1 tsp nutmeg
1/4 tsp all-spice
brown or turbinado sugar for topping
DIRECTIONS
Preheat the oven to 375 degrees. Grease a muffin tin with nonstick cooking spray, coconut oil or butter.
In a mixing bowl, whisk together the wet ingredients (butter, eggs, maple syrup, yogurt, milk, apple, brown sugar and ginger).
Add the flours, baking soda, salt, and spices (cinnamon, nutmeg, all spice). Stir until just combined (might be a little lumpy–that's ok. Best not to over-stir muffins).
Scoop into a muffin tin and sprinkle the tops with a bit of sugar.
Bake for 15-17 minutes, until the tops are puffy and firm to the touch. Cool, serve and enjoy!
Recipe adapted from: https://www.sarahremmer.com/easy-healthy-gingerbread-muffins/#sthash.dadmJNy8.erSVHrAj.dpbs
Recipe 2: Cinnamon Nutmeg Spiced Nuts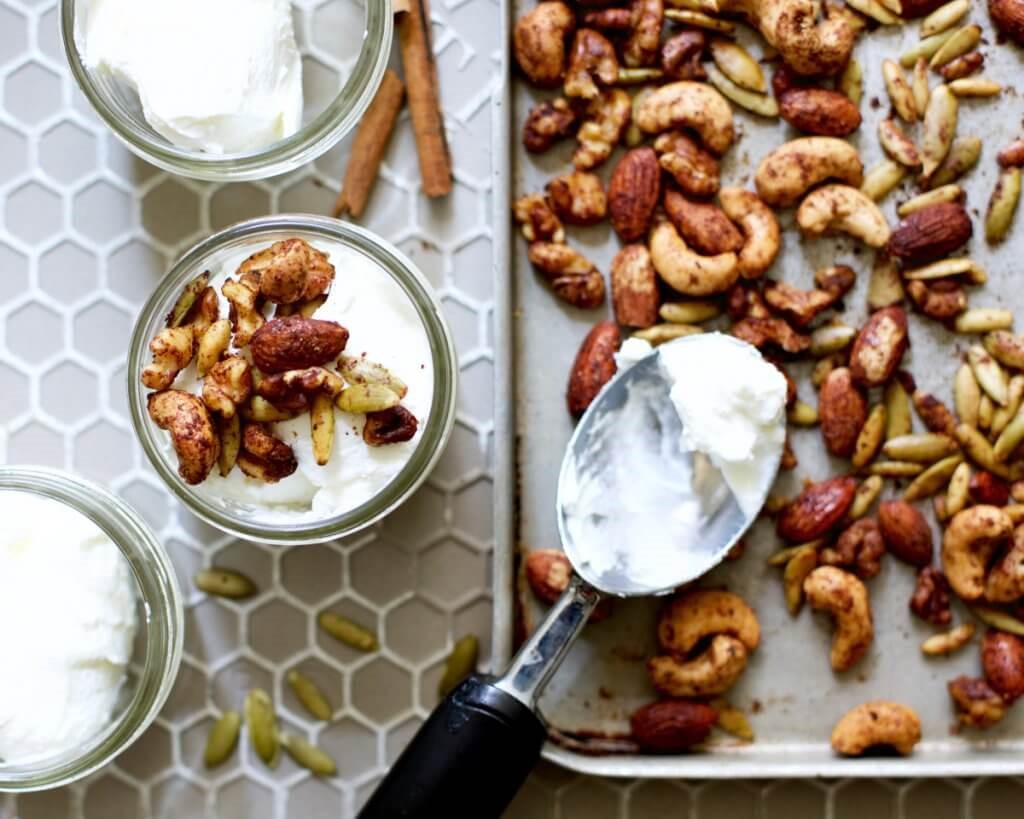 INGREDIENTS
2 cups of any mixed nuts &/or seeds (ex: cashews, almonds, walnuts, pecans, pistachios, pumpkin seeds)
1/2 teaspoon cinnamon
1/4 teaspoon nutmeg
1 tablespoon coconut oil
2.5 tablespoons maple syrup
Optional: Pinch of salt
INSTRUCTIONS
Preheat the oven to 300F
In a bowl, add all of the ingredients together and mix well with a spoon
Add the mix to a parchment paper-lined baking dish, and bake for 25 minutes, flipping the nuts midway
Allow to cool, and enjoy with 1/4 cup of plain Greek yogurt!
NOTES
If using unsalted nuts/seeds, add a pinch of salt at the end, to taste.
Store in an airtight container in the fridge for 2 weeks.
Recipe adapted from: https://foodheavenmadeeasy.com/cinnamon-nutmeg-spiced-nuts/