One exciting sign of spring is the smell of BBQ while walking outside. Barbecuing can create delicious smoky flavors hard to get using other cooking methods. However, sometimes there is a trade-off for your health. Here are 5 tips to boost the nutrition without sacrificing on the taste of barbecued meals.
Tweak the meats
Many types of meats and plant-based proteins work well on the BBQ. Try steering away from processed meats, which can have harmful fats and chemicals from processing. Experiment with more poultry, fish and plants instead. How do Greek chicken shish kabobs, Oriental-style salmon satays or cheesy black-bean burgers sound?
Watch the sauce
Premade sauces or spices can be saltier than you might think. Read the Nutrition Facts Table to help you choose lower-sodium options to help with your blood pressure. Try choosing products with less than 5-15% daily value of sodium per serving. The example below has 23% daily value of sodium per ¼ tsp of spice, which is "a lot" of sodium if you are using ¼ tsp per person. If you limit to half the serving size ( ⅛ tsp), you cut the sodium in half (11.5%) making it a better amount of sodium since it's under 15%.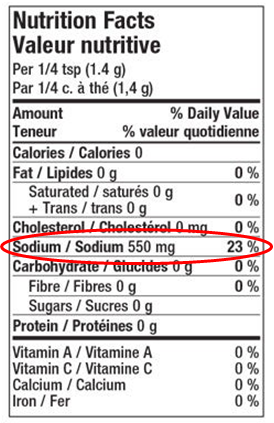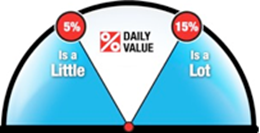 Marinating meat before barbecuing can make it tender and boost the flavor without much salt. For chicken, try equal amounts of olive oil and balsamic vinegar, plus dried herbs like garlic, basil and oregano. Let the chicken soak up the marinade flavors in the fridge for 30 minutes up to overnight before grilling.
Meals are best balanced when you include a protein (animal or plant-based), a whole grain and produce. Start with a portion of protein about the size of a deck of cards. This will leave space for the other parts of your meal. Make the swap from white grains to whole grains to help with blood sugar control. Having a couple sources of produce can help keep meals exciting while adding a variety of nutrients. Try a fresh Greek salad, grilled marinated veggies, or in-season corn on the cob to add fresh flavors to your meal.
Get science on your side
Many of us love the taste of barbecued meals and associate them with good times like warm sunny days. However, when animal fat drips onto flames causing flare-ups, harmful compounds are formed on the food which are linked to cancer. Lower your risk by:
Not eating the charred or burned parts of meat which carry the most risk,
Marinating the meat before it is barbecued to protect your food, or
Serving with veggies which helps your body fight those compounds.
Try this recipe: Oriental-style salmon satays
Ingredients:
¼ cup maple syrup
2 tbsp soy sauce
2 tbsp lime juice
1 tbsp fresh grated ginger (or ¼ tsp dried ginger powder)
1 lb salmon, cut into pieces
Directions:
Mix 1st four ingredients in a resealable container
Add salmon pieces and let sit in the fridge for 2+ hours, up to overnight
If using wooden skewers, soak in water for 30 minutes before grilling
Preheat BBQ to medium heat
Place salmon pieces onto skewers
Grill kabobs for 7-10 minutes, turning often until cooked
To balance this meal, serve a salad with sesame ginger dressing, oriental-style rice and tzatziki for dipping.
Michelle Broughton, Registered Dietitian